KNWA News Story–"Daniel's Voice"
One of the reporters from KNWA, Christina Carilla, was awesome enough to do a story about one of my clients. The story talks about some of the things we do in the session and how these things will transition to his everyday life to help him achieve his goals and dreams. Check it out!
---
Music Therapy Perspectives Article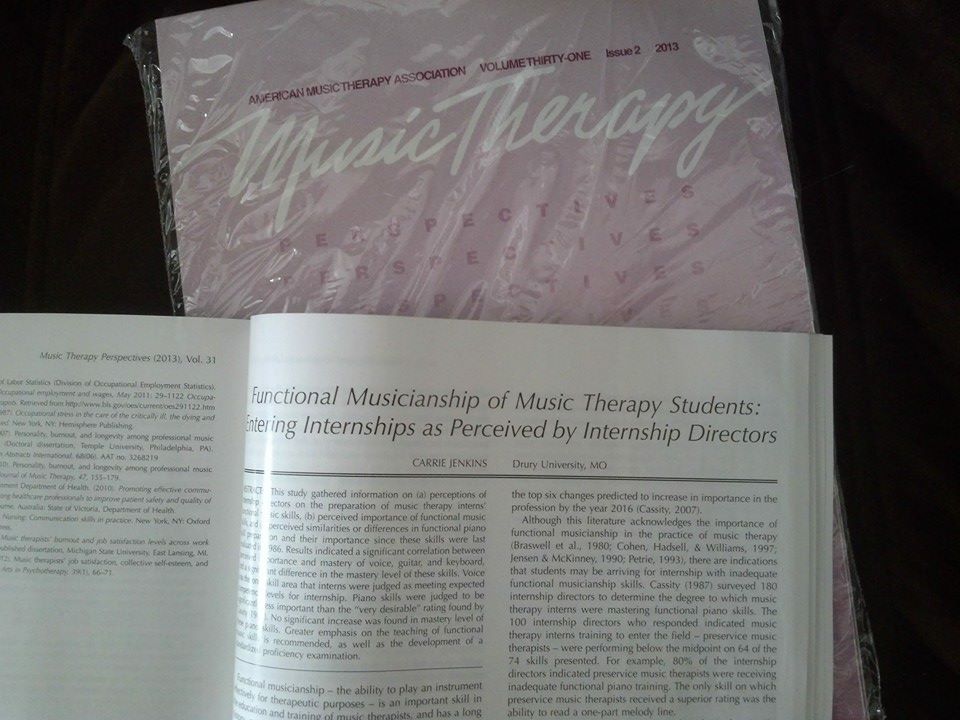 My master's thesis research has finally been published! It's a pretty big accomplishment for me. It took a lot of hard work, a complete rewrite, and a few years of waiting for it to finally happen. I am so thankful to everyone who helped me along the way and encouraged me to keep going! In case you're interested, here's a link to the entire article:
---
NWA Business Journal Article–December 8, 2013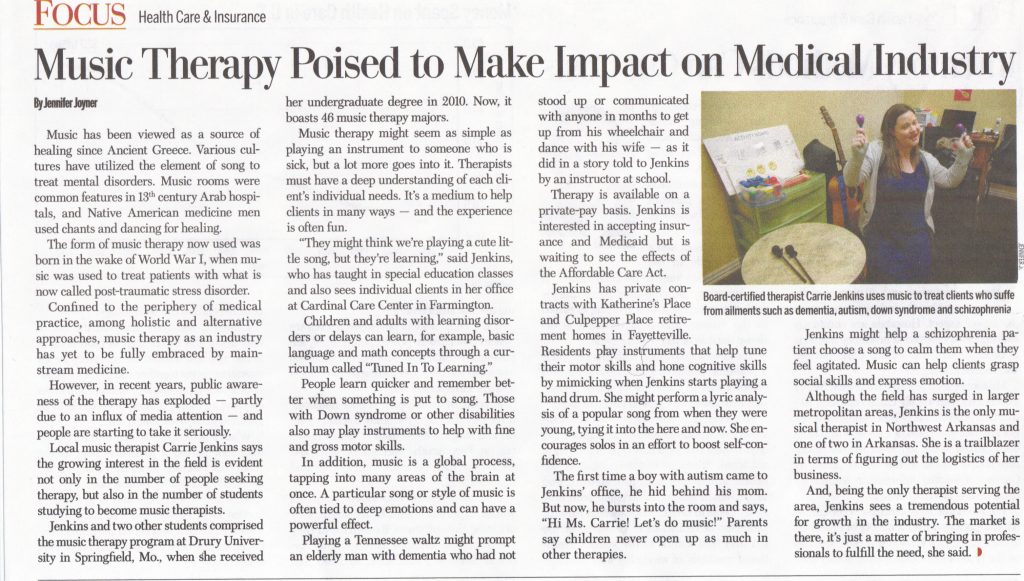 I was contacted by one of the writers at the NWA Business Journal in December. She wanted to write about music therapy as an up-and-coming business in the medical industry. It was a great way for music therapy to be promoted in the NWA area. A little extra publicity for MTNWA is never bad either. 😉
You can click on the picture to see the PDF of the article.  Enjoy!
---
Arkansas Life Article–May 2013
This article is titled "Hearing to Heal."  It talks about different benefits of music therapy and how it is being used in the state of Arkansas.  It also gives a little background on me and what I do with music therapy!
---
Washington County Enterprise-Leader Article–December 5, 2012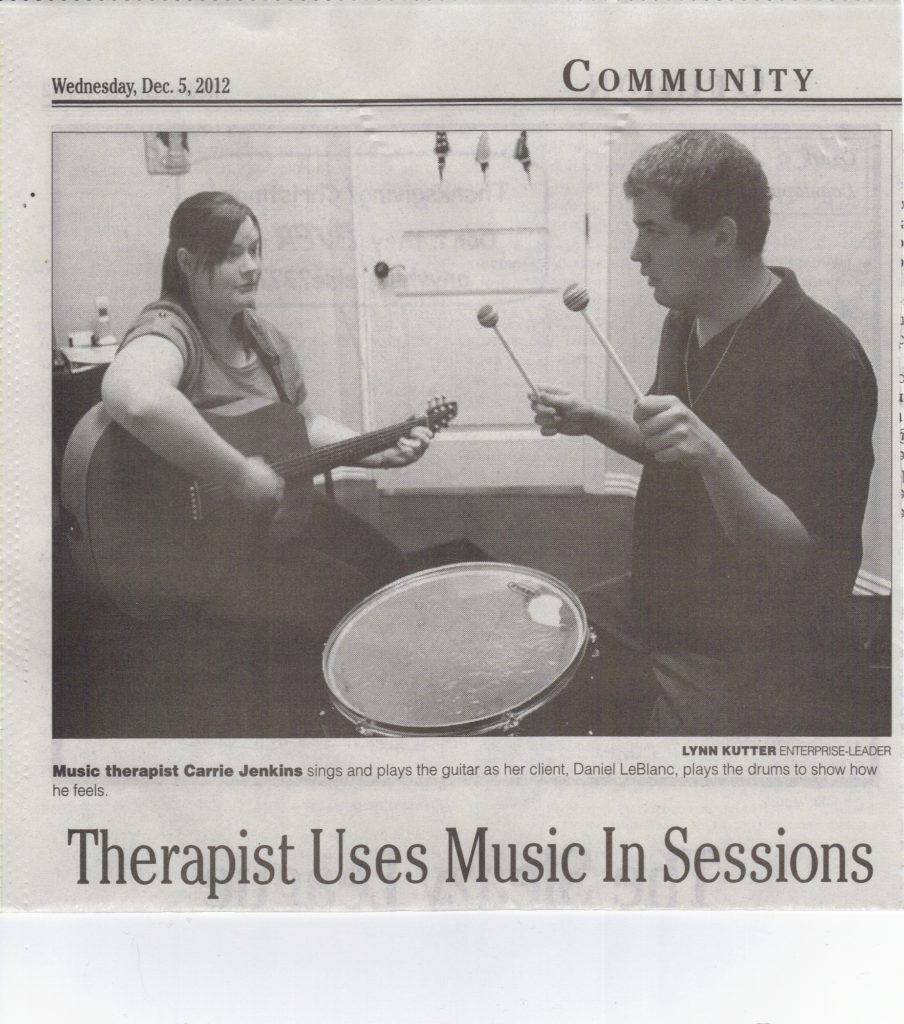 I was lucky to set up an office right by the local newspaper's office!  One of the writers for the paper came to our grand opening back in August.  She had told me she was interested in writing an article about music therapy since it was a new profession to the area.  A few weeks back, she contacted me again asking if I was still interested in giving an interview and possibly seeing one of my sessions.  She was able to come to one of my individual sessions and interview not only me but my client's mother as well.  It's a very well-written article that helps give an idea of my background and music therapy!  You can click the link or picture above to read the full article.  Enjoy!
---
Arkansas Traveler Article–August 21, 2012
Patients Find Harmony in Musical Therapy
One of the writers for the Arkansas Traveler (U of A's newspaper) contacted me about writing an article about music therapy.  It's a great article that gives a little background about music therapy as a profession, some of the work I've been doing, and opening the clinic in Northwest Arkansas!  Enjoy!
---
Cardinal Care Center Grand Opening–August 2, 2012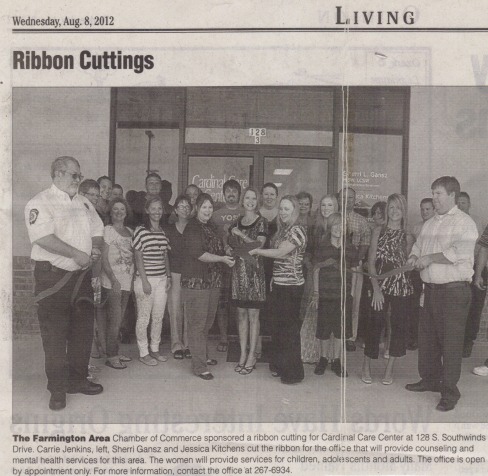 The Cardinal Care Center (where MTNWA's office is located) had its grand opening on August 2nd! It was a great success. People from the community came out to support us, have some delicious treats, and have any questions answered. There has also been some interest in future articles about music therapy and MTNWA! Check back later for more about us in the news!